The reason that my father made this demonstration was also to show our family's knowledge of the history and orginal language the Cherokee people. Why?

Stick Ross Mountain is an unimpressive peak. It's more of a gentle hill, really, poking out from behind the Wal-Mart just west of Tahlequah, the capital of the Cherokee Nation of Oklahoma.

But to the Cherokee, the 900-foot crest was remarkable enough to be named for a revered 19th-century member of the tribal council. Stick Ross is thought to be the grandson of Chief John Ross, who led the tribe along the Trail of Tears. Ross the younger was a respected Native American and a skilled diplomat who acted as a liaison between tribes and local townsfolk. "He knew sign language and spoke Cherokee and Seminole. He was a trapper and a farmer and a rancher," says Stick's great-grandson, Leslie Ross, a 56-year-old retired civil servant whose greatest joy is recounting the Stick trivia he learned from his family in Muskogee. "And he was sheriff at one time, too. He was pretty renowned in Tahlequah. Stick may have died an exemplary citizen of the Cherokee Nation, but he was born into slavery.

And yet, three-quarters of a century after the death of Cherokee legend Stick Ross, there's no room for his great-grandson in the Cherokee Nation. Leslie Ross has been denied citizenship in the tribe on the grounds that he is not truly Indian. "They said I don't have any Indian blood. They say blacks have never had a part in the Cherokee Nation," says Ross, his usually calm voice swelling with anger. "The thing is, there wouldn't be a Cherokee Nation if it weren't for my great-grandfather.  He was more Indian than the Indians!"

Ross is just one of at least 25,000 direct descendants of Freedmen who cannot join Oklahoma's largest tribes. Once paragons of racial inclusion and assimilation, the Native American sovereign nations have done an about-face and systematically pushed out people of African descent. "There's never been any stigma about intermarriage," says Stu Phillips, editor of The Seminole Producer, a local newspaper in central Oklahoma. "You've got Indians marrying whites, Indians marrying blacks. It was never a problem until they got some money."

In 1980, there were 50,000 members of the Cherokee Nation of Oklahoma; today, there are more than a quarter million. But even as the official ranks of the Five Civilized Tribes have swelled, they've revised membership guidelines to exclude the Freedmen.

In 1983, the Cherokee tribe established a rule requiring citizens to carry a Certificate of Degree of Indian Blood. This federal document is available to anyone whose ancestors are listed on the Dawes Roll

Not all tribal members reject the merits of the Freedmen's cause. Seventy-year-old John Cornsilk, who is seven-eighths Cherokee, opposed the 1983 decision to rescind Freedmen's voting rights - which he said happened because many Freedmen were backing a progressive candidate running for chief. Tribal leaders, he says, "colluded and drew up a new set of rules that said only people that could produce one of those cards could be a member. What the Cherokee Nation of Oklahoma has been doing in regard to disenfranchising the Freedmen is all totally illegal."

Cornsilk's son, David, has taken up his father's cause. While working in the tribe's enrollment office in the 1980s, he found that about a third of the Freedmen applications had some documented Native American ancestry. When higher-ups told him that these people could not be enrolled, he became an advocate for the Freedmen from the inside, helping black plaintiffs prepare to file suit in tribal courts. "I came to realize that this was a deep-rooted problem, that racism in my tribe was profound," he says. "They were perpetrating a genocide, a paper genocide."

<![if !vml]>
<![endif]><![if !vml]>
<![endif]>
And so, in recent years, a rush of Indians has come forward to claim tribal citizenship and get their share of the benefits.  These are boom times for the Five Civilized Tribes of Oklahoma - the Cherokee, Chickasaw, Choctaw, Creek, and Seminole - due in no small part to the 1988 Indian Gaming Regulatory Act that allowed the tribes to construct their own casinos. (This is also the year that my father confirmed an agreement with the Ebos of Nigeria (The Assembly of Yahweh).  The Chickasaw's net assets have more than doubled to $315 million in the two years since it opened the mammoth WinStar Casinos complex in Thackerville. The corporate arm of the Cherokee Nation, Cherokee Nation Enterprises, is on track to make nearly $70 million this year thanks to a new casino in Catoosa. Then there's the government reparations fund.
In 1990, the Seminoles received a $56 million settlement as compensation for the seizure of the tribe's ancestral lands in Florida almost 200 years ago.
The casino profits and make-good money have increased the standard of living for the recognized members of the tribes who make their homes in some of the poorest areas in the US. Cherokee Nation Enterprises allocates 25 percent of profits to the Cherokee government, which distributes the money in ways designed to help end the cycle of poverty - college scholarships, health care, and low-interest home loans. And the Seminole Nation offers grants for home repairs, which many of the ramshackle structures in Seminole County can sorely use. On the outskirts of Wewoka, the county seat, families loll on wooden porches that seem one gust of wind away from collapse.
For the better part of the 20th century, black Indians were permitted to vote in elections, sit on tribal councils, and receive benefits. Tribal leaders now insist that the Freedmen were never actually citizens and that they will never attain the honor of membership because they don't have Native American blood.
Outraged, numerous Freedmen have turned to the courts for help. In the most celebrated case, a black tribal leader named Sylvia Davis filed suit against the Seminole tribe in 1994 to get her son a $125 clothing stipend from the Seminole reparations money. But US courts have repeatedly refused to meddle in Indian affairs, noting that the sovereign nations determine their own membership criteria. Davis suffered a serious - and perhaps final - setback last year, when the Supreme Court refused to consider her appeal of a lower court's ruling that the Seminoles could not be sued in federal court. (The Bush administration filed a brief on behalf of the tribe.)
The activities from that year have lead to the establishment of the "International Decade of the World's Indigenous People (1995-2004)".  In July and August of 1996, the Washitaw empress lead an emissary to the Summer conferences at the United Nations offices at Geneva, Switzerland.  During the 14th session of the United Nations Working Group on the Indigenous Peoples, the Washitaw de Dugdahmoundyah was recorded as "the Oldest Indigenous People on Earth" in the final list of all attendees.
2000 AD
In 2000, the Seminoles expelled all 2,000 black members and denied their families a cut of the reparations money - never mind that their ancestors joined the tribe in the 18th century, endured the march from Florida to Oklahoma in the 1830s, and have considered themselves Indian for generations.
Also in the year 2000, for the first time since the Cherokee council was disbanded, on May 5th 2000 the Judicial Committee was formed and at the same time the planets of the galaxy aligned with one another since 6000 years ago.  And the same day my father Howshua (of the Black Indian organization 'the Tabernacle Congregation of Prayer') was made one of the judges (or chiefs) among five others:  Rabbi Sholomo Levy of Eloheim Hebrew Congregation, Rabbi Capers Funnye Jr of Beth Shalom B'nai Zaken Ethiopian Hebrew Congregation, Princess Zeridah Yehudah Ha'Sh'ar Universal Cultural Center, Brother Yirmeyahu Shlomo of Shlomo Beth Yisrael, and Moreh Elisha of House of Israel Hebrew Class. 
Now, just as the Freedmen's struggle appears all but lost, new hope is emerging from an unlikely place - the front lines of genetic science. Last year, several Freedmen leaders were approached by a molecular biology professor named Rick Kittles. As head of African Ancestry, a company he had recently founded to sell DNA testing services to amateur genealogists, Kittles promised to reveal any customer's preslavery roots, whether they stretch to the Tikar of Cameroon or the Mende of Sierra Leone.  Mr. Kittles, whom works at Howard University, was contact by, my father, Howshua on the subject of DNA testing of Black Indian.
Kittles heard about the Freedmen's plight from a friend at the University of Oklahoma and wondered how the black Indians' genetic makeup would compare to other subsets of the African-American population, such as the isolated residents of South Carolina's Gullah Islands. He visited the 2004 conference of the Descendants of the Freedmen of the Five Civilized Tribes, an organization dedicated to ending "discrimination against people of mixed Indian African descent," and offered free DNA tests. There are many light-skinned tribal citizens with less than 1 percent Indian genetic material; most Freedmen claim to have at least that much. So they began taking Kittles' test in hopes that science would succeed where rhetoric, litigation, and historical documents have failed.
<![if !vml]>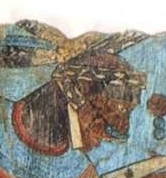 <![endif]>
"It's important that we be able to establish that we are Indian people, not just African people who were adopted into the tribe," says Marilyn Vann, who is suing the Cherokee Nation for citizenship. [The proof of her claims is to the left showing a shaved-head ancient black Indian (from the site Cacaxtla in Mexico that dates from 650 to 900 A.D) long before black slaves or Europeans ever arrived on the shores of the Americas. Found in 1975 and excavated by the National Autonomous University of Mexico]. "If you're the average tribal member, you don't want to be discriminated against because you look Indian. So how can you discriminate against other people just because they have some African features?" 
"I have something for you."
A linebacker-sized man with a shaved head and a disarming smile, Ron Graham is holding a manila envelope stuffed with hundreds of fuzzy photocopies bearing lists of names and numbers in chicken-scratch script. He ushers me to an empty table in Dale Hall, on the University of Oklahoma campus in Norman. We're here for the third annual meeting of the Descendants, the highlight of which will be Kittles' presentation on the results of last year's DNA tests.
When he's not working in a nearby xanthan gum factory, Graham moonlights as a genealogist-for-hire and vice president of the Descendants. He specializes in helping African-Americans who believe their Native American roots have been obscured by a combination of government racism and tribal avarice. Like Vann, Ross, and Davis, Graham took a DNA test to help prove his heritage and is in the midst of suing the Creeks to gain membership. In the final days of August, just as this issue of Wired hits newsstands, he will present his case, complete with DNA test results, to the tribal council. Graham believes that, in the face of scientific evidence, the Creeks will return his birthright.
Graham admits that money is a factor in his crusade: His three college-age sons could benefit from federal scholarships reserved for Native Americans. But he's not just looking for a handout. He seeks recognition as a Creek because that's how he has always identified himself. Graham fondly remembers his late father, Theodore "Blue" Graham, dancing at the stomp grounds near the town of Arbeka, where Creeks in traditional dress would gather for sacred ceremonies. Blue spoke Creek fluently and handed down some knowledge of the language to his son. During one of his citizenship hearings with Creek Nation officials, Ron was shocked to learn that he was one of the only people in the room who could recognize the word for girl written in the tribe's ancestral language. "My nation won't accept me because of skin color," he says, shaking his head.
<![if !vml]>
<![endif]>
(The Bat-Creek inscription proves that our ancient language is Hebrew)
Graham leafs through documents that he believes will demonstrate his ancestors had considerable Creek blood. He shows me a handwritten testimonial from Keeper Johnson, a full-blooded Creek and member of the Creek National Council, recognizing Blue as a fellow citizen. "I have known Theodore Graham since 1946 as a Creek Indian," the note reads. "He was traditional and spoke our language fluently. I always assumed he was Creek decent [sic]." Graham also dredged up documents known as Proofs of Death and Heirship, which list his father as one-eighth Indian - 12.5 percent.
Then he flips to his trump card. It reads, "Creek Nation, Creek Roll, Card No. 191." The date stamp: Approved by the Secretary of the Interior March 3, 1902. Above the seal is the name Rose McGilbray. When it was completed, likely by a clerk working for the Department of the Interior, McGilbray was 35 years old. In a column headed "Blood," the notation says "Full." "See, this is my great-great-grandmother on my mother's side," Graham says.  It's official recognition of McGilbray as a member of the Dawes Roll.
<![if !vml]>
<![endif]>
Now the Oklahoma Freedmen find themselves haunted by a 99-year-old clerical error motivated by racism or incompetence, or both. "To this day, in Oklahoma, we don't exist, our history doesn't exist. Everyone should have the right to reclaim their heritage," says Anissia Vo. Her grandfather, a Creek Freedman, said his dying wish was for his entire family to become recognized members of the tribe. Vo, who lives in Muskogee, has spent the last four years documenting her heritage and struggling to get recognition from the Creek government. "My great-grandfather was born Creek, his birth certificate says he was Creek. But when he died, he died a black man. (as his forefathers were called "black Indians",  shown above from the site Cacaxtla in Mexico that dates from 650 to 900 A.D) long before black slaves or Europeans ever arrived on the shores of the Americas. Found in 1975 and excavated by the National Autonomous University of Mexico].) It's upsetting to deal with someone telling you, 'We don't care what you were yesterday - from now on you're going to have to be someone else.' We want them to acknowledge our existence."
Even in the rare case that a Freedman can trace an ancestor to the Dawes Roll, as with Ron Graham and his great-great-grandmother Rose McGilbray, the tribes find a new way to ensure that the Freedmen are always the odd men out. The Creek tribal council has so far refused to believe that Graham is related to McGilbray. Which is why Graham turned to science in search of irrefutable evidence. His test reveals that he's genetically 9 percent Native American. If the tribes insist that they'll only accept members who are Indian by blood, he'll show them what's in his blood.
Searching for obscure ancestors once meant combing through the bowels of the National Archives or sending shot-in-the-dark letters to strangers who share a last name. Now anyone with a budding interest in their family tree can order a DNA test kit. Swab the inside of your cheek, mail the sample to a lab, which searches for variations that appear in certain ethnicities, and in a few weeks you'll receive a CD telling you your great-great-grandmother was born in Senegal. For those who obsess over matters such as whether their heavy tooth enamel indicates Creole roots, genetic tests are a quick way to separate scientific fact from family fiction.
Many of the early adopters shell out a few hundred dollars just to prove to themselves that their cells are more exotic than their faces. "Ninety percent of the people interested in Native American ancestry are people who look as European as could be," says Tony Frudakis, chief scientific officer of DNAPrint Genomics, a Sarasota, Florida, genetic testing company. "They think they might have a Native American ancestor three or four generations back. We call it the American Indian Great-Grandmother Princess."
DNA tests works fine for amateur genealogists, but they're hardly foolproof. Two of the three on the market - Y chromosome and mitochondrial DNA - are limited in scope. The Y chromosome test looks for variations on just 1.5 percent of a male's genes. The mtDNA test reads a mere 0.005 percent of the subject's genome. While these tests have shown an ability to identify Native American gene lines, false negatives are a big problem.
The third type, known as the genome-wide test, has proven more useful to the Freedmen. DNA Print's Ancestry-By-DNA looks across all 23 pairs of chromosomes for mutations that seem to indicate one ancestry or another. The company uses proprietary statistical software to estimate what percentage of a person's genetic material originated where - 85 percent European and 15 percent East Asian, say, or 60 percent African, 20 percent Native American, and 20 percent European. "Chief John Ross was between one-eighth and one-sixteenth Cherokee [12.5 and 6.25 percent]," Leslie Ross says, "and my DNA test said I'm 3 or 4 percent."
<![if !vml]>
<![endif]>
<![if !vml]>
<![endif]>But even the best tests have large margins of error. "If you show a positive result of 4 or 5 or 6 percentage points, there's a possibility that it isn't indicating Native American ancestry," Frudakis says. People with these levels of Indian blood may simply have genetic roots in places like Greece or Turkey, whose natives can convey Indian-ness in their DNA. Pakistanis, meanwhile, typically show 30 percent Native American heritage, for reasons that are not yet totally clear to scientists.  [The answer is revealed here:
<![if !vml]>

<![endif]><![if !vml]>
<![endif]><![if !vml]>
<![endif]><![if !vml]>

<![endif]><![if !vml]>

<![endif]><![if !vml]>
<![endif]>When King Solomon heard of the new world and started a campaign to settle the land.  So he gathered people, women in general (1ki 11:1), by using Tarshish (England) (1Ki 10:22) to gather them from all of the Northern lands (the Vikings, the Carians, Etruscans, and the Ashkenazi or Anasazi) in Africa (the Egyptians) and India as far as China near Xi'an, home of the Terra-cotta Warriors (called themselves Xi of the tribes of Shabazz and Shabti) and from all races of people to build country of one people united from all people( A Jewish nation).  Viking women carried with them the same style of hair & dress over to the Americas as remains with the Hopi women.]
The more tests that DNA companies conduct, the more data they'll have for comparison, which should lead to more accurate results. As the DNA databases grow, it may be possible to identify ancestry by region - say, a Southwestern Navajo or a New England Pequot. Kittles' database can already name the African tribes an African-American customer descends from. Still, linking Freedmen to particular tribes remains tricky because of all the intermarrying that has occurred over the years.
Even if the testing companies could narrow a person's origins to a specific tribe, would it matter? The science might be improving, but the Indian tribes show no inclination to accept it - or even consider it. "Our citizenship laws require you to have a Cherokee ancestor who was on the Dawes Roll. Can a DNA sample prove that?" says Cherokee spokesperson Mike Miller. "If I did a DNA test, it might show that I have some German DNA. That doesn't mean I could go back to Germany and say, I have German ancestry and I would like to be a German citizen."
Germans or no other people, however, were ever divided by color uses this Dawes Roll; nor trying to rebuild and nations (with reparations money).
<![if !vml]>
<![endif]>It's a crude analogy. Germany's citizenship laws don't require applicants to prove that a relative was listed on a flawed census of people with purported Teutonic blood. And if Miller so desired, he could become a naturalized German citizen someday. The Freedmen have no such chance.
Other tribes are just as closed-minded. When I ask Jerry Haney, the Seminole chief who expelled the tribe's black members in 2000, whether he might reconsider his stance based on DNA tests, he huffs. "They can claim all the Indian they want," he says, "but they cannot become a member of the Seminole Nation by blood. They're down there [on the roll] as Freedmen. They're separate."  (Here we go again allowing the white man to separate us using money just as they did when they hunted down our Black Indians forefathers for 50 dollars a scalp.)
Rick Kittles is one of the last speakers at the Descendants conference. When he steps up to address the crowd, he speaks briefly about the underlying science. He describes how African genealogy is relatively easy to trace because of the population's high number of polymorphisms - genetic variations unique to a particular group. Then he gets down to business. He shows charts indicating that African ancestry in the 95 Freedmen he tested ranged from 4 to 76 percent, while European ancestry varied from 0 to 62 percent. "Native American was surprising," Kittles says as he presses the slide clicker to bring up the figures that everyone's waiting for. The range of Indian blood was from 0 to 30 percent, for an average of just 6 percent - almost identical to an East Coast African-American population.
The chatter in the crowd stops. Kittles is telling attendees that, genetically, they are no more Indian than blacks in New York City or Baltimore. "I expected it to be higher because of the experiences you've had," he admits. Then he offers a consolation.
(Unfortunately, our brother Mr. Kittles is not aware of the study done in the 1920s.  Columbia University anthropologist Melville J. Herskovits, renowned for documentation of African survivals in American life, conducted interviews in New York, West Virginia and Washington, D.C. which determined that a fourth to a third of African Americans had Indian ancestors. Today in North American families, according to DNA test the figure is closer to 30%.30%.)
He explains that many Freedmen display high levels of European ancestry, with the group average at 18 percent. He suggests that, ironically, this might be exactly what links them genetically to the Five Civilized Tribes. Indians, he explains, were in contact with white colonists starting in the 17th century, and there has been significant gene flow between the two groups. As a result, many people who identify themselves as Native American have very high percentages of European DNA. East Coast African-Americans show much weaker links to Europe. So the Freedmen's levels of white genetic material may, in fact, be the very proof of Indian-ness that they're looking for.
To prove this hypothesis, Kittles tells the attendees that more testing is in order. "If genetics is going to help this cause, we really need to do tests on so-called purebloods, to assess their European ancestry," he says, theorizing that they, too, will have high levels of European blood. "I think that many of those so-called purebloods aren't so pure."
It's not the definitive result the audience expected. And yet, some find good news in the message. The first woman to raise her hand is an elderly lady in the very last row, wearing a flowing kente cloth dress. She leans forward in her seat. "I just want to thank you," she says as loudly as she can muster. Her test revealed 11 percent Indian ancestry. "It's true what my grandmother said, that I did have Native American blood."
As I wait for the day's final speaker, Sharon Lindsay Scott stops by my seat to say hello. An attractive woman with light skin and prominent cheekbones, Scott has the sort of face that might have convinced a Dawes clerk to place her on the blood roll. She tells me she's a descendant of the Perrymans, an illustrious Creek family C with a lineage that included a chief in the 1880s, Legus. Perryman. But for reasons that are lost to time, her ancestors were made Freedmen. "You know, the Dawes Commission would take brothers and sisters and divide them up," she says. "They went by how you looked, and a lot of the Creeks are darker-skinned. So you might be a full-blood and …" Scott trails off in a sad laugh. "I mean, they had no DNA testing back then."
With Graham's assistance, she has pulled together copious documents that attest to her family's Creek lineage and plans to submit her application for membership soon. The final piece she'd been waiting for was Kittles' DNA test. Now she has it: 79 percent African-American, 19 percent European, and 2 percent Native American. Which means her Indian DNA results could very well be just the result of genetic noise.
The results leave me wondering whether the Freedmen are caught up in a false hope. Will the intersection of Rick Kittles and a group of desperate would-be Indians mark a turning point in their struggle for recognition? Or just another twist in a sad tale? I ask Scott whether she expects her application to be rejected, considering that her percentage of Indian blood is smaller than the test's margin of error. She seems both surprised and slightly offended: "I don't see how they can."
Race is a loaded word that genetic testing companies avoid in favor of phrases like biogeographical ancestry. No wonder. For centuries, science has been hijacked to validate racist beliefs. Scientific journals from the 19th century are replete with discussions of cranial capacity and brain weight, measurements used to explain why blacks would never be as intelligent as whites. Then there are eugenics and social Darwinism, used to twist Darwin's findings and shape Nazi ideology.
But if the young discipline of DNA testing has taught us anything, it's that the very notion of race is fading, at least from a genetic perspective. The world is populated by mongrels and half-breeds. Even those who base their self-worth on being of "pure" racial stock probably aren't. Every family tree has a thousand branches. "The technology will show how mixed we are," Kittles says. "There is no line of distinction you can draw between groups. There will be people who say they have 100 percent African blood. I can show them that they have significant European ancestry, too."
So far, reams of historical documents and legal briefs have gotten the Freedmen nowhere against a century-old document created by clueless white bureaucrats and enforced by men the Freedmen once considered brothers. The question is whether a tool created by molecular biologists will have any more luck.
There are three types of DNA test designed to pinpoint genetic heritage. Ranging in price from $99 to $299, all three start with a swab of the inner cheek and provide results in two to eight weeks. Here's what happens along the way.
The Y chromosome method searches for genetic markers on the Y chromosome. A particular polymorphism, or variation, on the DYS199 locus, for example, is unique to those indigenous to the Western hemisphere. So anyone with that polymorphism has Native American ancestry. This test has two problems: It measures only 1.5 percent of the genome - so you may have Indian genes that don't show up - and it works only on males.
To determine maternal lineage, the mitochondrial DNA test looks for polymorphisms in mitochondrial DNA. All humans have mtDNA, which is inherited from the mother, so anyone can take the test. But since it measures just 0.005 percent of the genome, false negatives are a big problem. Also, mtDNA results will show the presence of, say, European and Native American genes along the maternal line, but not the percentages of each.
The genome-wide technique scours the entire genome for "ancestry informative markers" that indicate "biogeographical ancestry." Statistical software then analyzes the data to determine what percentage of genes comes from where. This is the test of choice for the Freedmen. The good news is that it's exhaustive. But it's also the most expensive option, and it still can't trace a Native American's roots back to a particular tribe.
Our suggestion to Mr. Kittles and others that are trying to identify the black Indians of the Americas they must first examine and compare the bones found in 1975, 2 Negroid skeletons were found in the U.S. Virgin Islands. One wore a pre-Columbian Indian wrist band. They were found in layers dated to about A.D. 1250. In 1974, Polish craniologists revealed that no fewer than 13.5% of the skeletons from the pre-Columbian Olmec cemetery of Tlatilco were Negroid.1
<![if !vml]>
<![endif]>This is the source of clear evidence of the genetic link between the ancient Black Indians of the past and the present Black Indians of today.  In the 1920s Columbia University anthropologist Melville J. Herskovits, renowned for documentation of African survivals in American life, conducted interviews in New York, West Virginia and Washington, D.C. which determined that a fourth to a third of African Americans had Indian ancestors. Today in North American families the figure, according to DNA test the figure is closer to 30%. So what you can do to help us is to research what bones Palaeontologists discovered in the tombs of ancients Israelites in Israel and compare them with the bones of those ancient Black Indians to confirm what were their DNA connection.
But don't worry my brothers everything that has been done has been done to the fulfillment of the words of the Great Spirits.
"Deuteronomy: 32:25: The sword without, and terror within, shall destroy both the young man and the virgin, the suckling also with the man of gray hairs.
De:32:26: I said, I would scatter them into corners, I would make the remembrance of them to cease from among men:"
When you stated that "many Freedmen display high levels of European ancestry, with the group average at 18 percent. He suggests that, ironically, this might be exactly what links them genetically to the Five Civilized Tribes. Indians, he explains, were in contact with white colonists starting in the 17th century, and there has been significant gene flow between the two groups. As a result, many people who identify themselves as Native American have very high percentages of European DNA. East Coast African-Americans show much weaker links to Europe. So the Freedmen's levels of white genetic material may, in fact, be the very proof of Indian-ness that they're looking for."
CHEROKEE INDIAN DNA RESULTS
In Europe, there also seems to be an Adriatic or Balkan presence (Slovenia, Croatia, Italy, plus see map).  Hispanic matches (see 1880 Census of our father Sam as Hispanic) do not necessarily point to ancestry in Latin America but probably rather reflect mixed Iberian and American Indian ancestry. Iberian ancestry could be very deeply seated, as people from the Iberian Peninsula are believed to have been the first to colonize the British Isles after the last Ice Age (Oppenheimer). The combination of Portuguese, Polish, Jewish American (Israel), Egyptian and Arabian hits (see map) may indicate a degree of Jewish ancestry. There appears to be no Eastern Asian or Subcontinental Indian ancestry; apparent matches are probably due to accidental convergence. There also appears to be no Sub
The single most common male haplogroup among current Cherokee tribal members who have tested is R1b. How can this be, you ask? Clearly, one of three possibilities exists:
<![if !supportLists]>1. <![endif]>The Cherokee (or those tribes who were assimilated into the Cherokee) adopted a European male into the tribe or a European male fathered a child that was subsequently raised as Cherokee.
<![if !supportLists]>2. <![endif]>The R1b ancestor was not adopted into the tribe, maintained their European/American identity but married a Cherokee individual. This might be the case where one of the 8 great-grandparents in our example was white, and the other 7 were not.
<![if !supportLists]>3. <![endif]>There is some level of R1b admixture in the Native Population that preceded contact with Europeans that we have not yet identified.
But my brother Yirmeyah Amariel, the third son of Howshua Amariel, has help to provided this evidence through a DNA test that verified the Phoenician/Hebrew/Indian connection and the Amariel family Oral history:
Amariel Family DNA RESULTS
Test subject- Yirmeyah Amariel
..
 Using DNA Heritage to explore our ancestry. The following report covers the background to Y-chromosome SNP testing, human migrations, your own results and the interpretation of those results.
:: Haplogroup Result:
The testing of your sample shows that you were positive on the above highlighted markers. Additionally, you were negative on the other markers within the panels tested. Knowing this we can determine your haplogroup.  An asterisk after the haplogroup would designate that branch-defining markers below the haplogroup have been tested but proved negative - e.g. I* or R1b3*
.
.
We determine you to be in Y-chromosome haplogroup R1b3*
.
There exists a minor sub-clade of R1b3, characterized by additional downstream mutation SRY2627 or M167 and named R1b3f (YCC 2003). This clade shows a specific focal distribution area, being spread only in limited geographic region in Iberia and France, mostly among Spanish and French Basques (20%), Catalans (20%) and with lower frequency in other Iberian populations and French (Rosser et al. 2000; Hurles et al. 1999). In other European regions this clade has practically not been detected. R1b3f haplogroup was referred as haplogroup 22 in earlier literature (Hurles et al. 1999; Rosser et al. 2000). There is also another minor sub-clade of R1b, namely R1b3d - defined by downstream mutation M153 and showing focal distribution (16-3%) in some Iberian R1b lineages shows a frequency peak (40% to 80%) in Western Europe and a decrease in Eastern (with the exception of 43% in the Ossetians) and Southern Europe, whereas R1b variance shows multiple peaks in West Europe and Asia Minor. While R1b variance displays a clear-cut northwestern-southeastern decline in South East Europe, R1b frequency decline continues from Western towards Southeastern and Southern Europe. These spatial patterns might be due to the fact that R1b lineages contain associated 49a,f haplotype 15 and 35 sub-lineages with opposite distributions possibly reflecting re-peopling of Europe from Iberia and Asia Minor.
Within Europe, the Haplogroups of R and I have undergone additional mutations so we find R1b spreading northward from Iberia, clades of I migrating northward from both Iberia and the Balkans, and R1a spreading outward from the Ukraine.
The Birth of the West ; pg 13  "Yet the Cretans were certainly not Europeans in the modern sense of the term.  In the Palaeolithic Age and far into the Bronze Age the European lands of the Mediterranean were inhabited by brown-skinned, dark-haired races of unknown origin, but whom perhaps were descended from the Aurignacians of the Ice Age.  In Spain they were called Iberians, in Italy Ligurians…"
Phoenician Western Sea-migration Chart
THE PHEONICIANS- FROM THE LEBANON pg 137. "The Phoenicians thus met a relatively civilized people at the southern tip of the Iberian Peninsula, with whom they could do solid business.  Consequently they immediately set up their outpost at Gades.  It was - as its name seems to indicate – a fort on one of the small offshore islands they so loved.
Before doing so, they would have passed through the Straits of Gibraltar, and seen that beyond it stretched another endless ocean, far more stormy than the one they knew, and moved by tides.  This was a phenomenon which also amazed Alexander the Great in India centuries later.  There were no tides in the Mediterranean.  How the Phoenicians reacted is not recorded.  They appear to have simply grown accustomed to the fact and were soon feeling their way down the Atlantic coast of Africa.  According to as yet unconfirmed theories they then even veered westwards and sailed as far as America.  Professor Cyrus H. Gordon of Brandeis University in Boston at any rate put forward the supposition that the Melungeons, a light-skinned Indian tribe in East Tennessee came, as they themselves believe, from Phoenicia."
THE SHADOW OF ATLANTIS pg 160-161.  "But during recent years about 2,000 prehistoric inscriptions have been found in Brazil.  Many of them are in Phoenician, old Egyptian, and Sumerian, and others in unknown alphabets resembling Iberian, Carian, Etruscan, Cretan, etc."
THE SHADOW OF ATLANTIS pg 162.  "Later M. Frot wrote me a very interesting letter, which I give below in a brief English translation: 'The Phoenicians used in their South American inscriptions the same methods which were used by the old Egyptians at the earliest period of hieroglyphic writing.  The same methods were employed by the Aztecs and by that unknown race which has left its petro glyphs in the Amazonian basin.  The results of my investigations are so striking that I am afraid to publish them.  In order to give you an idea of them I will say only that I possess proofs of the origin of Egyptians: the forefathers of Egyptians issued from South America and once formed three powerful empires.  Two of them were founded in South America and the third on the Old Continent.  The latter included North-western Africa, the Iberian peninsula and the islands of the ocean neighbouring Europe."
Cherokees of Tenessesse and Missouri confirm Amariel Family history with their DNA and history (Tenessesse Cherokee DNA press release showing Jewish connections and Missouri Cherokee Tribes proclaim Jewish Heritage.)
JEWISH DNA RESULTS:
Confirmation of the high frequency of Haplogroup R1a1 among Ashkenazim as compared to other Jewish and non-Jewish Middle Eastern populations was found in a genetic study on Samaritan and Israeli groups (Shen et al. 2004). Although population samples were small, consisting of twenty participants from Ashkenazi Jewish groups, all were Eastern Ashkenazim of Polish ancestry.  Ashkenazi results were compared to other Jewish groups from Iraq, Libya, Morocco, Ethiopia and Yemen, as well as to non-Jewish Samaritan, Druze and Palestinian populations.  Shen found that haplogroup R was found in 10-30% of all the groups, with the exception of Palestinians and Ethiopian Jews, though the majority belonged to R1b and R*.  In contrast, the Ashkenazim had the highest percentage of haplogroup R (30%), with two-thirds of those results found in haplogroup R1a (Shen et al. 2004).
Additionally, Behar's (2004b, Supplementary Material) own data indicate that haplogroups R1b, R1a and I comprise more than a quarter of Ashkenazi DNA results.
Haplogroup Projects

Note: Haplogroup projects are restricted to people who ALREADY have their DNA results. These projects do not accept members who haven't taken a DNA test yet since you need to know your haplogroup to join the correct project.

Project Name

Description

For all men whose DNA results place them in Y-DNA haplogroup J

For Jewish men whose DNA results place them in Y-DNA haplogroup E3b

For Jewish men whose DNA results place them in Y-DNA haplogroup R1b

For Jewish men whose DNA results place them in Y-DNA haplogroup Q

For everyone whose mtDNA results place them in mtDNA haplogroup K

For everyone whose mtDNA results place them in mtDNA haplogroup N
The results of the DNA testing of our Jewish brothers also discern between haplogroup R1b, who are the blood of the children of Israel, and from haplogroup E3b, J, Q (chart above), who are converted to Judaism; both that are found within the Ashkenazi, Iraq, Libya, Moroccans, Yemenis, Samaritans, Druses and some Ethiopians.  In conclusion, from analyzing the Amariel Family DNA migration results haplogroup R1b3 (chart number 6)  in comparison to that of the migration history of the Phoenician (Iberian)/ Hebrew/Cherokee people it is clear that they followed the same direction of Phoenician migration from the land of Israel  (Phoenician Western Sea-migration Chart)  to America verifying the Amariel family Oral history.  To be used as one of many tools in our family's claim to reclaim our inheritance in the land of Israel for the upcoming Jubilee year. Further details and information on the Amariel Family is included in our book 'The Amariel Family Oral History'.
CLICK ON BANNER BELOW TO MAKE YOUR DONATION WITH PAYPAL.